W tym poście przedstawię jak zrobić, aby natychmiast po wypchnięciu zmian do BitBucket.org serwer ciągłej integracji rozpoczął proces budowania aplikacji.
Konfiguracja Jenkinsa
W związku z tym, że nasz Jenkins musi być dostępny publicznie, warto go trochę zabezpieczyć. Dostęp do Jenkinsa ograniczymy tylko dla zarejestrowanych użytkowników. Opcje konfiguracji zabezpieczeń powinny być ustawione tak jak na screenie poniżej.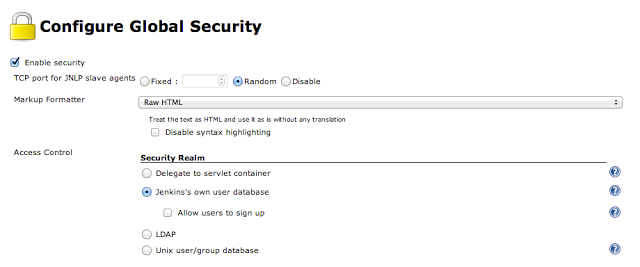 Nazwa użytkownika w tym przypadku to "lewy". Następnie musimy pobrać nasz "user API token". Znajdziemy go tutaj:

Następnie musimy włączyć dla naszego projektu, możliwość zdalnego triggerowania budowania: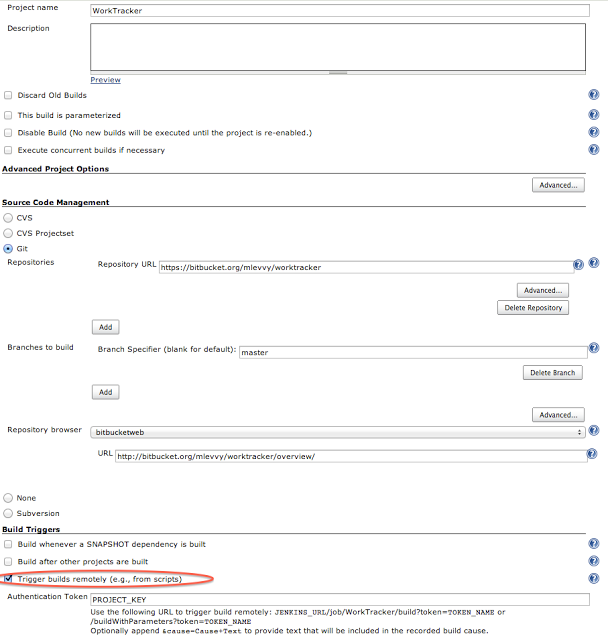 Aby przetestować konfigurację Jenkinsa wywołaj zapytanie do serwisu:
http://lewy:USER_KEY@klkl.pl:8081/job/WorkTracker/build?token=PROJECT_KEY
Po wykonaniu tej operacji, nasz serwer Jenkinsa powinien ruszyć z nowym procesem budowania.
Konfiguracja BitBucketa
BitBucket'a konfigurujemy tak jak na screenie przedstawionym poniżej:

Jeżeli tak skonfigurujemy nasze środowisko, po pchnięciu zmian, serwer ciągłej integracji, powinien automatycznie rozpocząć budowanie aplikacji.
Niestety BitBucket nie udostępnia żadnych logów, więc jeżeli coś nie działa, to pozostaje nam próbować zmieniać coś w ciemno, aż zadziała.